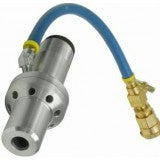 Water Induction Sandblasting Nozzles 1-1/4" Thread ( Win Nozzle )
Tel (616) 741-9237 Email biga@sandblaster-parts.com
Choose from available models above by using the drop down list (down arrow), or clicking the smaller photos.
( Water Induction Nozzle ) where water is mixed in with with the
abrasive and air to help prevent dust emissions. Also to prevent heat when blasting thin sheet
metal parts. This is and example of a double venturi taking in air and water as it passes
through the nozzle to help increase blast pattern and minimizing
the loss in velocity. Uses garden hose hook up and can mix up
to 1-1/2 gal.per minute to keep the dust down.