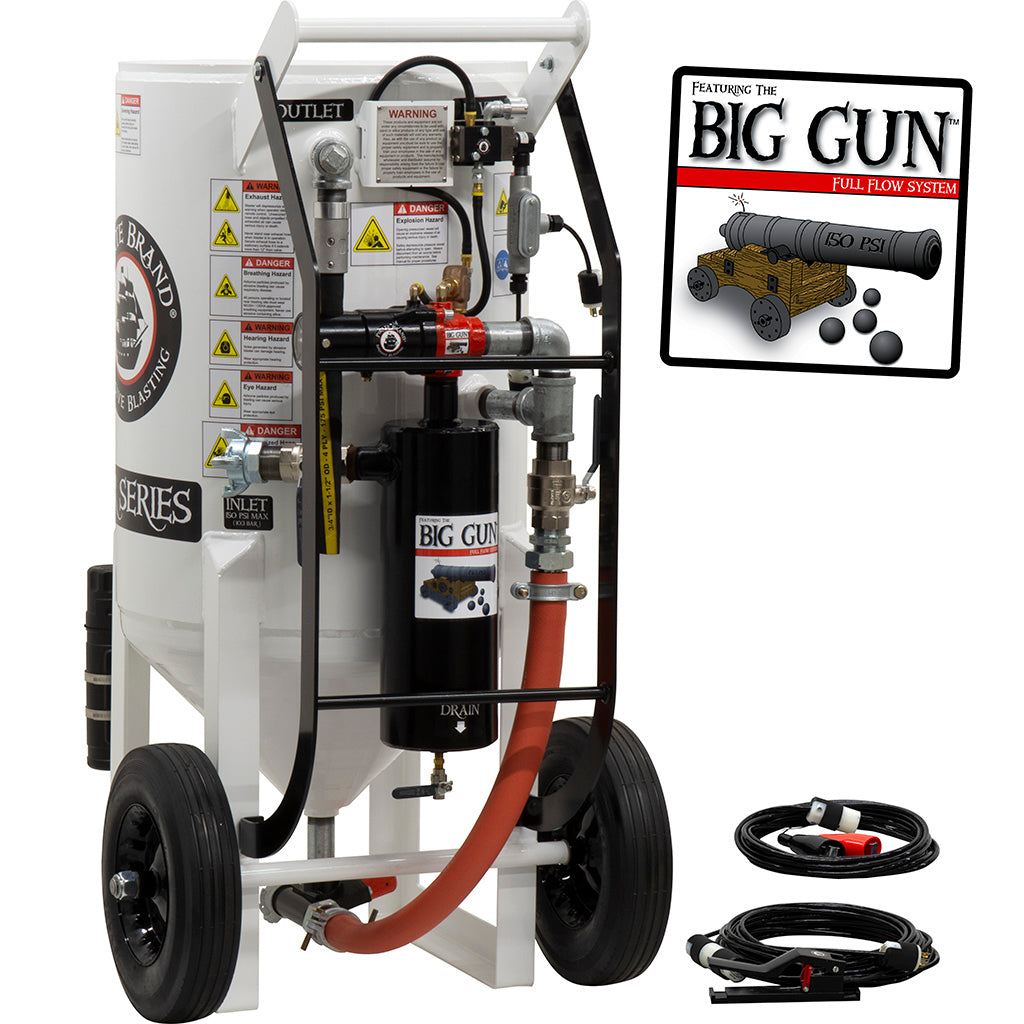 Sandblasting Equipment BIG GUN pressure release 12 VDC Electric controls
Pricing available upon request only.
Tel (616) 741-9237 Email biga@sandblaster-parts.com
Choose from available models above by using the drop down list (down arrow), or clicking the smaller photos.
This is a industrial style portable sandblaster made to run all day long day after day. This BIG GUN machine will give you ultimate production.
Description: ABRASIVE BLAST POT / SANDBLASTING MACHINE, PORTABLE, 6.5 CU. FT. (185 LITERS), 150 PSI (10.3 BAR), PRESSURE RELEASE SYSTEM, ELECTRIC 12VDC, INCL: MPV/COMBINATION VALVES, 1-1/2" PIPING BIG GUN FULL FLOW SYSTEM W/BIG GUN MOISTURE SEPARATOR, (1) 55' CONTROL CORD W/CONTROL HANDLE & (1) 25' POWER CORD, LOADING SKID/VALVE GUARD.
! WHEN USING STEEL ABRASIVES, ELECTRIC CONTROL HANDLE #2 (2263-401) AND SEALED CONNECTOR(S) (PB-31131) ARE REQUIRED

FEATRUES & BENEFITS OF SPR ELECTRIC CONTROLS 12VDC BIG GUN FULL FLOW

A. 6.5 CU. FT. CAPACITY (185 LITERS)
1. 150 PSI VESSEL (10.3 BAR)
2. A.S.M.E. SECTION VIII DIVISION 1 C.R.N. FOR ALL PROVINCES
3. C.R.N. FOR ALL PROVINCES
B. PRESSURE RELEASE SYSTEM
1. AUTOMATICALLY BLOWS DOWN THE VESSEL WHEN CONTROL HANDLE IS RELEASED
2. LOW MAINTENANCE DESIGN
3. SIMPLE TROUBLE SHOOTING FOR IN FIELD REPAIRS
C. ELECTRIC CONTROLS 12VDC
1. WHEN RUNNING OVER 100 FEET OF BLAST HOSE THIS ADDS ADDITIONAL SPEED TO STOPPING & STARTING THE BLASTING OPERATION
2. HELPS WITH FREEZING PROBLEMS IN COLD WEATHER
3. HEAvY DUTY FILTERED CONTROL VALVE ADDS ADDITIONAL SPEED TO STOPPING THE BLASTING WHEN CONTROL HANDLE IS RELEASED
D. BIG GUN FULL FLOW SYSTEM PROVIDES
1. A ZERO PRESSURE DROP PATH FOR AIR & ABRASIVE TO TRAVEL TO THE BLAST NOZZLE FOR EVERY 1 PSI GAINED OR LOST IN ABRASIVE BLASTING = 1.5% PRODUCTION
2. A MUST FOR #7 & #8 NOZZLES
3. FULL PORT COUPLING BLAST HOSE CONNECTION PROVIDES AN UNRESTRICTED PATH FOR AIR & ABRASIVE TO TRAVEL TO THE NOZZLE
E. HEAVY DUTY BIG GUN MOISTURE SEPARATOR
F. 1-1/2" GALVANIZED PIPING FOR CORROSION RESISTANCE
G. HEAVY DUTY FULL PORT BALL VALVES
H. EXTENDED LIFE SCHEDULE 80 HEAVY DUTY NIPPLE
1. WITHSTANDS ABRASIVE WEAR FOR LONGER LIFE
I. BOLT CLAMPS ON PUSHER LINE MAKE FIELD REPAIRS EASIER
J. COMBINATION VALVE/MPV VALVE
1. COMBINATION VALVE IS A 2 IN 1 DESIGN THAT WILL STOP THE AIR